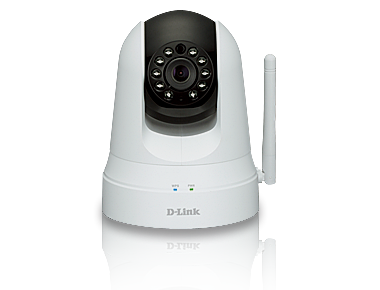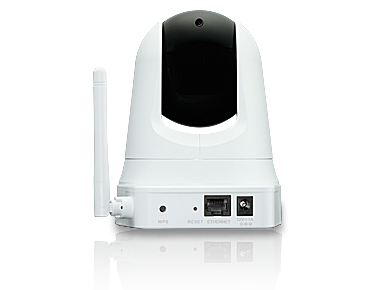 The DCS-5020L produces high quality video images and it comes with built-in Infrared LEDs and pan/tilt functions that allows you to monitor wide range of area regardless of the lighting conditions. It also comes with built-in wireless extender for whole-home coverage.
The DCS-5020L Wireless N Day & Night Pan/Tilt Cloud Camera provides a range of features to help you effectively monitor large areas of your home or small office at all hours of the day. The pan/tilt function allows the camera to patrol a wide area, while the built-in IR LEDs provide around the clock surveillance regardless of the lighting conditions. Wireless connectivity means there is no need for additional cabling, and the DCS-5020L can even extend your existing wireless network to reach the farthest corners of your home or office.

Peace Of Mind With 24/7 Monitoring Of Any Environment
The DCS-5020L is a standalone surveillance camera that requires no special hardware or software, and can run independently even without a PC. Send e-mail notifications with snapshots or video clips whenever motion or sound is detected using just the DCS-5020L and an Internet connection. You can customize areas of the video image to monitor for motion, allowing you to effectively monitor areas such as entryways. You can also set volume thresholds to determine the sound level required to trigger a notification, great for detecting the sound of an intruder or vehicle, or the cry of a baby. Night time monitoring is also possible thanks to built-in infrared LEDs which allow for night time viewing of up to 26 feet (8 meters), enabling round-the-clock monitoring of your home or small office.

Instant Access Anywhere With mydlink Cloud Service
Enhanced with mydlink™ support, the DCS-5020L makes it easier and more convenient for you to keep an eye on your family, home or office, no matter where you are . You can view your camera's live video through the mydlink website, and through an optional downloadable mydlink app for your iOS or Android mobile device. With the mydlink app, you can quickly and easily view your camera feed from anywhere using a Wi-Fi or 3G/4G connection.

Sharp Image Monitoring from Different Angles
By providing you with sharp, responsive pan/tilt movement and digital zoom, the Wireless N Day & Night Pan/Tilt Cloud Camera gives you full control. You can quickly scan a wide area from a variety of angles, and 4x digital zoom lets you zoom in on specific areas for more detail. The DCS-5020L can also be set to move to specific preset positions, allowing the camera to focus on particular areas of interest within the surveillance area.

Increased Range with Wireless N Technology
Place the DCS-5020L anywhere in your home or small office thanks to the latest Wireless N technology. You can even use the DCS-5020L's Extender Mode to extend the range of your wireless network, giving your home or office better wireless coverage, so you can not only connect your camera wirelessly but also extend the reach of your existing wireless network at the same time.

Full Featured Surveillance System
The DCS-5020L includes the D-ViewCam software, which adds enhanced features and functionality that helps you create a full surveillance system. D-ViewCam enables centralized management of multiple network cameras, supporting up to 32 network cameras and up to 64 users. When combined with a dedicated computer, it offers digital monitoring and recording with a wide array of features, including scheduled, motion and manual recording options for your individual needs.

Specifications
---
| | |
| --- | --- |
| | Minimum illumination 0 Lux with IR LED on mydlink™ Zero Configuration setup |
| | 1/5" Progressive Scan CMOS sensor 8 metre IR illumination distance |
| | Wireless N Connectivity with Extender Mode |
| | Sound and Motion Detection Motorised Pan/Tilt/Zoom |
| | Access the surveillance footages on your smart devices using mydlink iOS and Android apps Built-in Microphone |