Modern businesses and workgroups face the challenge of finding a robust storage solution that can scale with the exponential increase in digital content their organization creates. From shared documents, old archived files and large rich media files, through to enterprise databases and core applications data, this challenge will only become more acute. Deploying an appropriate IT environment with a reliable, affordable and expandable storage solution is business critical. The ability to securely store, share and back-up digital assets has become one of the most important tasks for an SMB IT administrator, choosing the right option will significantly enhance business productivity and crucially offer a reliable disaster recovery solution in an age when downtime of any nature impacts profitability.
The QNAP TS-420U Turbo NAS is an all-in-one rack mount network attached storage (NAS) server optimized for small and medium businesses looking for an affordable yet high performance network storage solution. The TS-420U can hold up to 4 hard drives and is designed to be easily installed in the server room and configured with up to 12TB of storage capacity. The TS-420U is an ideal solution for centralized data backup, cross-platform file sharing, iSCSI/IP-SAN storage combo solution and a number of business applications. Moreover, the TS-420U offers exceptionally low power consumption, reliable system operations and capacity expandability.
Besides, the intuitive MyCloudNAS service simplifies the process of publishing content residing on the TS-420U over the Internet and helps the IT administrator create private cloud storage in just a few simple steps. The mobile app QMobile provides users with an iOS® or Android™ mobile device with a convenient way to access the TS-420U on the go.
Large Capacity Storage and File Sharing
Cross-platform Sharing with Antivirus
The TS-420U supports SMB/CIFS, NFS, and AFP protocols for file sharing across Windows©, Mac©, Linux/UNIX networks. User accounts and shared folders can be created via the user-friendly web-based interface without IT expertise. The integrated antivirus solution for the TS-420U ensures business continuity by offering detection against the latest viruses, malware, worms, and Trojan horses.
Windows Active Directory (AD) and LDAP Directory Service
The Windows AD and LDAP (Lightweight Directory Access Protocol) directory service features enable the IT administrator to retrieve user accounts from Windows AD or LDAP-based directory server to the TS-420U, reducing time and effort in account setup. Users can use the same login name and password to access the TS-420U. In addition, the TS-420U can also be configured as an LDAP server and allows devices with LDAP protocol enabled to be joined in the directory and share the same user accounts and groups.
Shared Folder Aggregation
Access the shared folders of other servers on Microsoft Networking through the "portal folder" on the TS-420U. This saves the time and effort in logging in multiple servers one by one.
ISO File Archiving and Sharing
The TS-420U supports mounting ISO images of CD and DVD discs as network shares for data archiving, storage, and sharing. This feature saves the space for storing the physical discs, reduces the risk of data loss caused by disc wearing and tearing, and enhances the efficiency of data sharing on business network.
Advanced Folder Permissions
Advanced folder permissions allow users to configure folder/subfolder access to the TS-420U. With this feature enabled, users can manage the folder permissions from Microsoft Windows or the web-based management interface of the TS-420U easily.
Secure Data Storage and Access
Policy-based Unauthorized IP Blocking
The IT administrator can allow, deny or auto block specified IP address or network domain which attempt to connect to the TS-420U via SSH, Telnet, HTTP(S), FTP, Samba, or AFP
Remote Login
The TS-420U supports remote login via SSH (secure shell) or Telnet connection.
SSL Security (HTTPS)
The TS-420U supports HTTPS connection. The IT administrator can upload a secure certificate and RSA private key in X.509PEM format issued by a trusted provider to allow access to the TS-420U via secure SSL login.
Secure FTP
The TS-420U offers secure data transfer with SSL/TLS (explicit) encryption. Passive FTP port range setup is also supported.
Encrypted Remote Replication by Rsync
The data on the TS-420U can be backed up to or from another Turbo NAS or Rsync server over the network securely.
Shared Folder Management
The IT administrator can select to hide or show selected shared folders of the TS-420U on Windows network.
User Authority Management
Create multiple users and specify their password, quota, and user groups by simply uploading the batch files in TXT or Excel CSV format to the NAS.
VPN Server
Build up a private network with QNAP VPN Server support and allow inbound access by Windows

®

, Mac

®

, Linux, and even iOS

®

and Android

™

devices. The connections are secured with up to 256-bit encryption.
Backup Center for Business
Well-rounded Backup Solutions
The TS-420U offers the IT administrator flexible server backup solutions, including encrypted remote replication, Real-time Remote Replication (RTRR), and cloud-based storage backup. Windows users and Mac users can use QNAP NetBak Replicator utility and Time Machine respectively to back up data to the TS-420U. Furthermore, the TS-420U supports third party backup software such as Veeam
®
Backup & Replication and Acronis
®
True Image.
Disaster Recovery Solution
The TS-420U offers users peace of mind, business continuity, and high availability of data by providing the ability to recover their data from disasters.
Real-time Remote Replication
Real-time Remote Replication (RTRR) provides real-time or scheduled data replication between the TS-420U and a remote QNAP NAS, an FTP server, or an external drive.
iSCSI LUN Snapshot/Backup
Server virtualization reduces IT expenditure yet provides flexible server management. Adopting a proper data protection and disaster recovery for virtual machines has become vastly important. The TS-420U has taken iSCSI LUN backup/restore to a whole new level with snapshot technology. The IT administrator can use the LUN snapshot to back up contents in the LUN to various storage destinations, including Windows shared folders via SMB/CIFS, Linux shared folders via NFS, or local shared folders on the TS-420U.
Cloud Storage Backup
Get ready to send private data to the clouds! The TS-420U supports Amazon
®
S3, ElephantDrive
®
and Symform
®
cloud storage backup which have several backup modes including real-time, scheduled backup and versioning control so that the data can be restored from any point of time. With ElephantDrive cloud storage can be monitored through a web browser. An extra set of all of the data stored will always be available, so remote data recovery is quick and simple.
The IT administrator can connect external storage devices to the Turbo NAS via the eSATA or USB ports and back up data in the NAS shared folders to the external devices. Three backup modes are provided: instant, scheduled, and automatic backup.

The Turbo NAS features USB 3.0 ports for high speed backup to external hard drives. EXT3, EXT4, NTFS, and HFS+ file systems are supported to ensure compatibility with Windows, Mac®OS X, and Linux operating systems.
| | | |
| --- | --- | --- |
| File System | QNAP NAS | Other NAS |
| EXT4, EXT3 | | |
| FAT32 | | |
| High-speed NTFS | | |
| HFS+ | | |
| | |
| --- | --- |
| | Lower speed |
iSCSI and Virtualization Deployment
NAS + iSCSI Combo Solution
The TS-420U can serve as a NAS for file sharing and iSCSI storage concurrently.
Flexible Management
The TS-420U supports multiple LUNs (Logical Unit Numbers) and iSCSI targets. LUNs can be flexibly mapped to, unmapped from, and switched among different iSCSI targets.
Secure Deployment
Designed with CHAP authentication and LUN masking, the advanced ACL (Access Control List) offers the capability to block unauthorized access from the initiators.
Feature-rich Business Applications
The TS-420U supports a multiuse of server business applications.
File Server
The TS-420U provides seamless file sharing cross Windows, Mac, Linux, and UNIX platforms. It also supports WebDAV for easy access to shared folders via HTTP/HTTPS protocol remotely.
FTP Server
The IT administrator can establish an FTP server with the TS-420U and share files conveniently with colleagues or customers.
Backup Center
The TS-420U offers a centralized backup center for Mac users using Time Machine and Windows users using QNAP NetBak Replicator utility.
Web Server
The IT administrator can host multiple websites on the TS-420U with the built-in web server and virtual host feature.
RADIUS Server
The RADIUS server centralizes and consolidates user authentication by maintaining a list of user accounts that are authorized for remote network access through dial-up equipment, Wi-Fi access point, or VPN connections.
Syslog Server
The RADIUS server centralizes and consolidates user authentication by maintaining a list of user accounts that are authorized for remote network access through dial-up equipment, Wi-Fi access point, or VPN connections.By collecting and storing the logs of other network devices on the TS-420U with the Syslog server feature, the IT administrator can easily monitor the status of these devices and troubleshoot problems when necessary.
Printer Server
The TS-420U offers printer sharing over the network and remote printing over the Internet via IPP (Internet Printing Protocol). Print job management, and Bonjour printing for Mac OS X are also supported.
Surveillance Station Pro
The Surveillance Station Pro supports over 1,400 IP cameras, ranging from high-end to low-end models, and is compatible with ONVIF specifications. Administrators can purchase additional licenses to increase the number of channels based on their surveillance needs. iOS

®

and Android

™

users can install the VMobile app to monitor the surveillance channels anytime and anywhere with the functions of camera live view, motion-detection recording, PTZ control, instant event notifications, video snapshot, and advanced playback and search functions.
IPv6
The TS-420U supports IPv6 (Internet Protocol Version 6) which makes the NAS a dual-stack IP host running IPv4 and IPv6 at the same time.
VPN Server
The VPN (Virtual Private Network) service allows users to access the NAS and other resources on the same local network from the Internet.
LDAP Server
LDAP Server service allows devices with LDAP protocol enabled to be joined in the directory and share the same user accounts and groups.
Software Expansion via QPKG Center
QPKG Center is a software expansion platform to install 3rd party software on QNAP NAS. Instead of abstruse Linux command line installation process, QPKG center facilitates the operation by providing one-click installation.
Proxy Server
With the help of Squid QPKG, the QNAP TS-420U can be used as a Proxy Server. Internet cache speeds up web browsing; web filtering and monitoring enhances business Internet security.
Private Cloud Storage
The TS-420U helps users reap all the benefits of cloud computing. A private cloud for business use can be built easily. This cloud provides flexible ways for data access, sharing, and backup, virtually anytime, anywhere.
MyCloudNAS Service
The MyCloudNAS service simplifies the process of publishing contents in the TS-420U over the Internet. It provides a web-based portal for file management and access, and supports backing up important data from the TS-420U to other cloud storage providers such as Amazon S3, ElephantDrive, and Symform.
MyCloudNAS Access Code
While exposing the TS-420U to the Internet could raise security concerns, the MyCloudNas Access Code provides privacy control to make selected services only visible to authorized users.
Email Invitation
The MyCloudNAS provide an easy way to send out an email invitation to friends. The invitation contains step-by-step instructions on accessing the TS-420U. It also provides a link to download the Windows application MyCloudNAS Connect that allows people even without proficient networking skills to easily set up and connect to the TS-420U.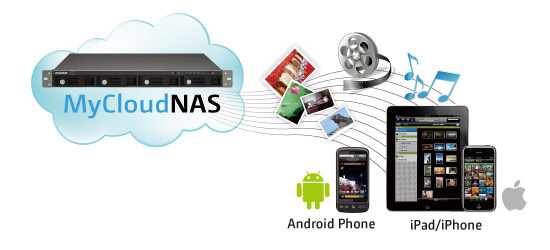 Qfile is an app for users to browse and manage the files on the Turbo NAS.
Qmanager turns users' mobile devices into a remote control and helps monitor and manage the Turbo NAS.
Terabytes of photos, music, and videos stored on the Turbo NAS are ready to be streamed by Qmobile from anywhere regardless of the actual storage size of the mobile devices. Qmobile also provides a convenient way for uploading photos from the mobile devices to the Turbo NAS for instant sharing.
Advanced Features
Advanced RAID Management with Hot-swap Design
Specifications
---
| | |
| --- | --- |
| | eSATA 2 x eSATA port (Back) |
| | USB 2 x USB 3.0 port, 2 x USB 2.0 port |
| | LED Indicators USB, Status, HDD 1, HDD 2, HDD 3, HDD 4, LAN |
| | Hard Disk Drive 4 x 3.5" or 2.5" SATA I/II hard disk drive (HDD) |
| | Flash Memory 16MB |
| | DRAM 1GB DDR3 RAM |
| | CPU Marvell 1.6 GHz |
| | 4 x 2.5/3.5 SATA NAS 1.6Ghz CPU, 1GB RAM, 2xGBit Lan, 2xUSB2, 2xUSB3, 2xeSATA |
| | Dimensions 44(H) x 439(W) x 483(D) mm 1.73(H) x 16.97(W) x 19.02(D) inch |
| | Weight Net weight: 6.7 Kg (14.77 lb) Gross weight: 9.5 Kg (20.94 lb) |