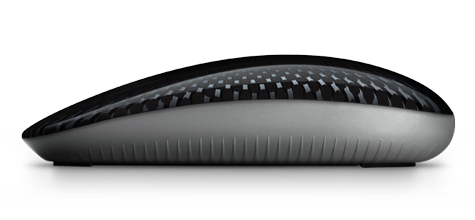 Scrolling, swiping, and surfing that's like second nature—thanks to the responsive touch surface and smooth-as-smartphone scrolling.


Responsive touch surface
The touch surface responds directly to the world's most natural technology—your fingers. Now, whatever you're doing on your laptop—surfing the Web or reading your emails—is as easy as letting your fingers do the clicking, scrolling and swiping.

Comfortable, stylish design
You can be sure this touch mouse feels good in your hand, and—with its stylish design—looks good wherever you use your laptop.

Smooth-as-smartphone scrolling
Essential to your M600 experience, Logitech Flow Scroll software gives you scrolling that isn't choppy - more like the fluid scrolling on your favorite touchscreen smartphone. Slide your finger along the touch surface to experience immediate, continuous and free-flowing Web page scrolling.

Keeps it simple
The M600 was carefully crafted so that it feels great doing exactly the tasks you do most frequently--pointing, clicking, and scrolling. And it doesn't matter which hand you use to mouse. Left-handers can easily reassign the right- and left-click buttons with Logitech SetPoint software, available for download


Logitech Advanced 2.4 GHz wireless
Say good-bye to cords and enjoy wireless freedom (up to 10 meters (or 33 feet)), so it's easy to use your mouse on the couch with your laptop—or even when you're hooking your laptop up to your TV.

Logitech Advanced Optical Technology
Laser-grade precision tracking delivers precision on virtually any surface. So while you may not actually need to hit individual pixels in Photoshop®, it's nice to know that you can.

Storable receiver
The receiver slides into the integrated storage slot behind the battery door for safe keeping.
| | |
| --- | --- |
| | Six-to-one power One Unifying receiver connects up to six compatible mice and keyboards. |
| | Keeps it simple The M600 was carefully crafted so that it feels great doing exactly the tasks you do most frequently--pointing, clicking, and scrolling |
| | Smooth-as-smartphone scrolling Essential to your M600 experience, Logitech Flow Scroll software gives you scrolling that isn't choppy - more like the fluid scrolling on your favorite touchscreen smartphone |
| | Comfortable, stylish design You can be sure this touch mouse feels good in your hand, and—with its stylish design—looks good wherever you use your laptop. |
| | Responsive touch surface The touch surface responds directly to the world's most natural technology—your fingers. |
| | Scroll and swipe where you like The touch surface makes scrolling direct and fluid. And you can scroll and swipe immediately—wherever your fingertips rest on the mouse. |