Accessories & Parts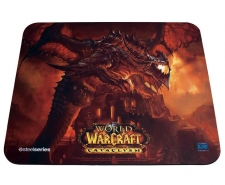 Click image to enlarge


Call Us Now
| | |
| --- | --- |
| MLN Online: | (03) 9421 4711 |
| MLN Richmond: | (03) 9427 7887 |
Sorry, this model is no longer available. Try using our product search bar for current deals.
1/2 Price Shipping

SteelSeries Qck Deathwing Edition
The SteelSeries QcK mousepad provides users with a precise and consistent glide through the combination of this high quality cloth material and an optimized textured surface. The specially designed non-slip rubber base prevents the pads from sliding, no matter what the mousepad is placed on.
The SteelSeries QcK has been used by professional gamers from around the world and had won more tournaments and competitions than any other mousepad on the planet. It is a great choice not only for the hardcore gamers, but also for graphic designers and other users requiring precision and accuracy. The mousepad is optimized for optical and laser technology.
Dimensions: 270 x 320 x 2 mm / 10.8 x 12.6 x 0.1 in.
Specifications
---
| | |
| --- | --- |
| | GUARANTEED GLIDE High quality cloth with optimized surface ensures smoothness and precision. |
| | RUBBER BASE Specially designed non-slip rubber base prevents the pad from sliding. |
| | OPTIMIZED Flawless, steady performance when using both optical and laser mice. |
| | SteelSeries QcK mousepad provides users with a precise and consistent glide through the combination of this high quality cloth material and an optimized textured surface |
| | This mousepad is optimized for optical and laser technology |
| | Dimensions: 270 x 320 x 2 mm / 10.8 x 12.6 x 0.1 in. |